DVD 1 Alegrías
Easy Step by step exercises suiatable for an absolute beginner or to supplement on going classes,improve your style,your posture, your stamina and technique. A lesson with Ana whenever you choose, get together with your freinds.
Alegrias DVD more information……..
£9.95 plus shipping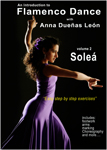 DVD 2 Soleá
Following on from the fabulously successful first DVD using the same easy to follow structure Anna takes you into the wonderful world of Soleá.This DVD runs at 1 hour and features song and guitar accompaniment. The DVD is fully chaptered for easy access to all the exercises making this the ideal study companion.
£9.95 plus shipping