Beginners/Improvers Flamenco Guitar Lessons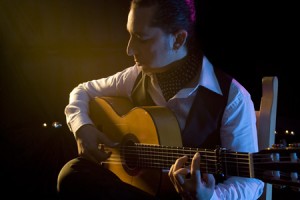 Every Monday night in Hove with José Dueñas León
Classes are relaxed, friendly and affordable with patient and encouraging guidance giving an authentic insight into the rhythms, accompaniment, techniques, forms and their origins.
Courses are 4 weeks at a time and fees are payable in advance on first day. It is not a drop-in class so missed class fees cannot be refunded. Classes last for 90 minutes.
No formal musical training needed but it is not for absolute beginners to the guitar. Please bring a nylon-strung guitar.
Private lessons are also available for students  of all levels including absolute beginners. They can be taught as a course (discount available for block bookings) or as a one off.
José is  a professional Flamenco guitarist having studied with his uncle in Spain. As well as being a successful songwriter with his compositions being used in films and TV (Ugly Betty, The Shield among others) José performs sellout shows nationally and internationally with the company Amor Flamenco co-founded with his sister Ana.
www.amorflamenco.co.uk
For information please contact José on 07957 722997 or jose@flamencodance.co.uk