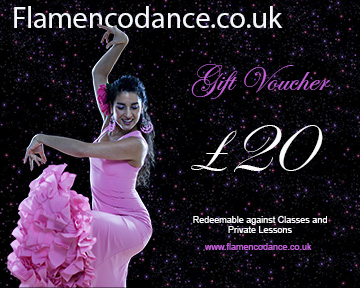 The Flamencodance.co.uk Gift Voucher


An ideal gift for all lovers of Flamenco Guitar and Dance.


This is a lovely gift, perfect for Christmas, Anniversaries, St Valentines, Birthdays, Mother's and Father's Day or just to express how much you value a special friend or loved one.
Flamenco Dance Voucher


The voucher, which comes with values of £20,£30,£40 or £50 can be used against any class, course or workshop held at Flamencodance.co.uk's Flamenco Academy in Brighton, Sussex.It can also be used for private lessons or individual choreography whether for the absolute novice or semi to professional dancer.
All classes, workshops or private lessons are taught by experienced professional dancer/choreographer, Ana Dueñas León.
Flamenco Guitar Voucher:
This voucher can be used for group classes, workshops or private lessons with professional Flamenco guitarist, José León.
Whether you want to learn how to accompany dance or song or just to learn a few Flamenco techniques to augment another style, José is a gifted and experienced teacher.

Suitable for absolute beginners or experienced players.
Vouchers available in £20, £30, £40 or £50 value.